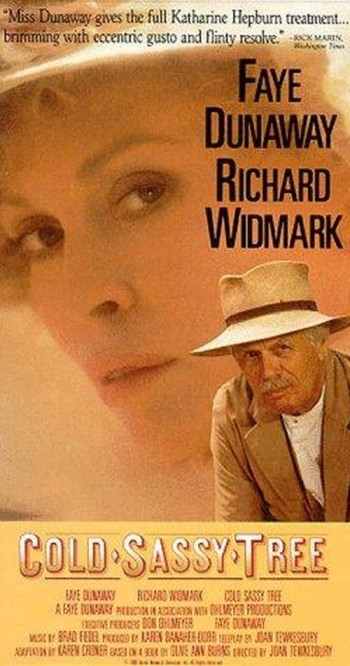 Cold Sassy Tree
Cold Sassy Tree Cue: 
This was a wonderful project with great performances by Faye Dunaway and Richard Widmark, Frances Fisher and a young Neil Patrick Harris. Director Joan Tewkesbury was a pleasure to work with as well as producer Karen Danaher.
Ms. Dunaway was also a producer so I ended up spending a fair amount of time with her in my garage studio. Tough job, but someone's got to do it! There was one afternoon that Faye needed to go up to the house to use the bathroom. She was gone for quite a while but eventually returned.  Later my housekeeper said,  "There was this blonde lady in the kitchen looking around in the pantry for a long time, I think I've seen her before."  Guess she was hungry….
I feel very lucky that my career spanned a time that allowed me to have the opportunity to work with some classic Hollywood icons also including Jimmy Stewart and Bette Davis on the only project they ever did together (more on that later).
It was a challenge to find a way to be true to the early 1900's period with the primitive samplers that were available at the time. I would love to have done this with live orchestra, but ah, well, can't have it all…